Objects for sale in cities: Turin, Rome, Palermo, Catania, Naples, Milan, Salerno
Why invest in real estate?
1
The first, and most important, advantage of real estate is that it is both a commodity and a financial asset. And it looks good in both capacities. You can use the investment advantages of real estate, or you can use its use value. To put it simply, not only profit from owning real estate, but also live in it or use it in business (if it is commercial). Virtually no other assets have such properties. For example, cars, for example, depreciate quickly and are not suitable for savings and accumulation purposes. And assets that don't depreciate (for example, securities) cannot be used.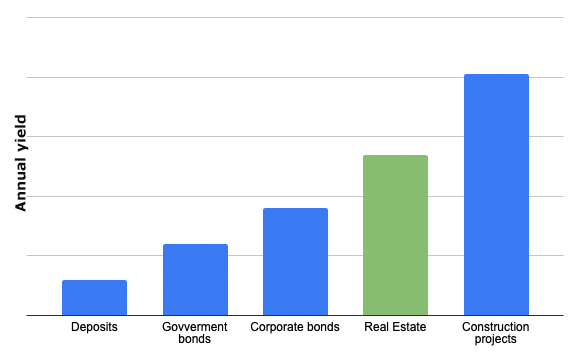 2
Not many assets can boast of guaranteeing a passive income to their owner, much less a stable passive income. Gold, for example, is an excellent investment tool, but unfortunately it does not yield any passive income and an investor has to rely only on its value growth. The amount of dividends from stocks is difficult to predict in the long term. Arguably only bank deposits and OFZs can compete with real estate. "If my financial situation worsens, I can always rent out my flat," is an argument that real estate buyers have every right to make. The income from rental properties is a good reason to choose this. By the way, the real interest rate on mortgages is much lower than on other types of loans, thanks to the internal rate of return on the property.
3
Not only does the flat you buy depreciate slowly, but it also remains practically unchanged in terms of its use. And as a financial asset, it is also very stable over time. Crises succeed one another. States disintegrate. Companies both prosper and go bankrupt. People are born and die. And real estate stays owned. It is very likely that ten or twenty years from now, a flat will still have about the same value as it does today. In short, real estate can be seen as an investment for the very long term and is therefore quite suitable as a retirement plan. There's no denying that it has few rivals over the long haul.
4
When you buy a property, you not only take possession of the walls, but also, in part, of the land on which it stands. And land is a finite resource. Where a house stands, you can't build another one, which means you are buying a unique product that cannot be exactly replicated. And if you build the same house next to it? You can, but it will be a different building standing on a different plot of land. And the further away from the original site, the greater the difference. Such considerations do not make much sense for small townships, but in densely urbanised areas, where it is difficult to erect new buildings, buying a property can make investment sense. This is the reason why real estate in big city centres is so expensive - not because of any concrete consumption advantages, but because of strictly limited number and size of land plots in such places.
5
Real estate resists currency depreciation well. Strictly speaking, not all inflation can be beaten back, but if the Ministry of Finance gets carried away with excessive emission, the value of real estate has a good chance of not being particularly badly affected. The possible rise in prices also entices investors and makes them invest in a real asset.
6
All you have to do is to buy real estate once, and then you don't have to put or hide it (if it is a commodity) or exchange it for (if it is money). It is physically impossible to steal real estate. Besides, the real estate is very monetizable, which is a definite plus.
7
The risks of ownership can be roughly divided into two groups. A) Risks of total or partial loss of the asset (e.g. due to expropriation, division of property, etc.). B) Risks of loss of purchase price. Some people think that real estate is a completely risk-free asset, but this opinion is far from reality. Options to lose it are many. But if we compare it with other financial assets, there are fewer risks, especially when it comes to market fluctuations.
8
Few will admit it, but real estate is not just bought to live in. And not even to make money with it. What else? To tell everyone that you bought it! It is human nature to buy things for reputation's sake. There's even a term for this - ostentatious consumption. The problem is that there are not many opportunities for ostentatious consumption in today's economy, because of the availability of credit. This leaves real estate as one of the last goods, which, because of its value, is still relatively inaccessible to the masses.
9
Permanent registration gives advantages in medical care, social security, education. I know quite a few cases when people decided to buy a flat only for the sake of sending their children to kindergarten or school.
Still have a question?
Let's communicate and find opportunities to solve your problems
Help & Support
Questions about cooperation with the project landcab.com
8 (995) 784-18-12